Employment Opportunities

2016
---

Legal Secretary/Receptionist Required
We are currently looking for a Legal Secretary/Receptionist to work in our Athlone Office. Interested candidates should forward their CV to
Mandy McCormack Office Manager
Tormeys Solicitors
Castle Street & Connolly Street
Athlone
Co. Westmeath
Tel: +353 90 6493456
Fax: +353 90 6492767
E-mail: mmccormack@tormeys.ie
---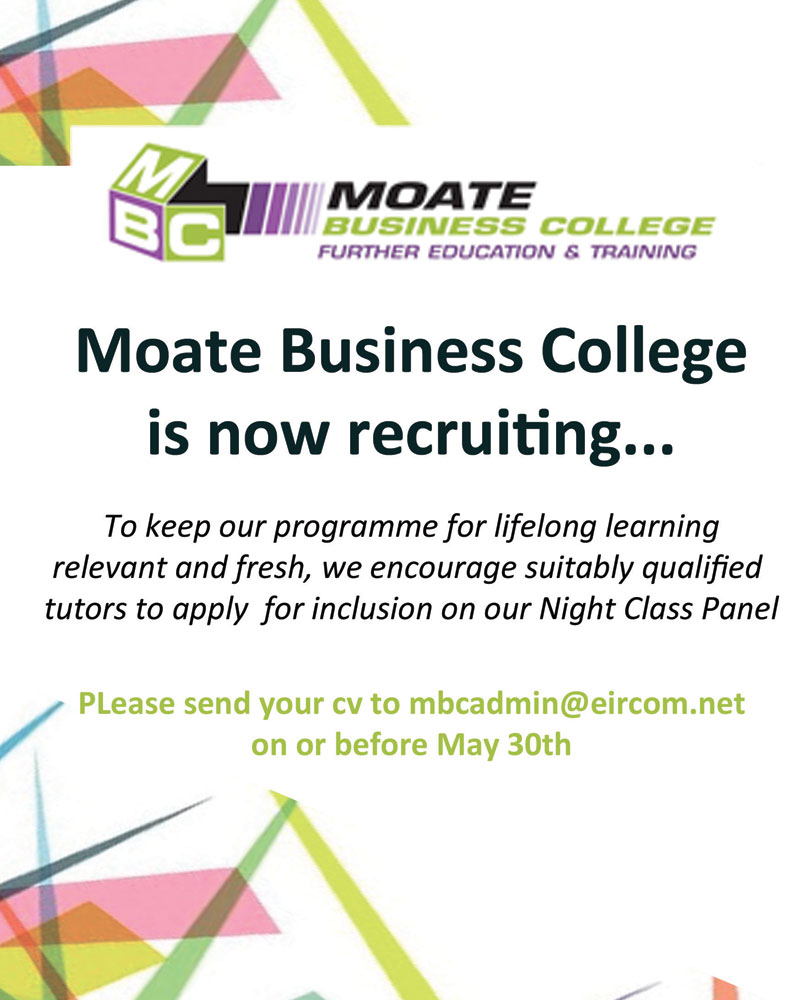 Bridgeways Family Resource Centre, Ballymahon, Co Longford run a range of Family Support Programmes and are interested in providing volunteering opportunities for students who are currently studying in areas such as Social Care, Early Childcare & Education, Community Development etc.

Any students interested in volunteering over the summer can contact Bridie Costello Hynes, Co-ordinator on 090 6432691 or email bridgeways1@hotmail.com. Bridgeways will be running Summer camps during July 2016 and would welcome any assistance that potential volunteers may be able to provide.

Bridie Costello Hynes
Co-ordinator
Bridgeways Family Resource Centre
Dean Egan Library
Ballymahon
Co. Longford
0906432691
bridgeways1@hotmail.com
---

MBC requires a Further Education Teacher of Information Technology, Programming, Games Analysis & Design and Creative Media at QQI Level 5 and Level 6.
Candidates must be registered with the Teaching Council and experience in Further Education is desirable.
Apply with CV to mbcadmin@eircom.net
Closing Date: Wednesday 18th May 2016 at 5pm
---

MBC requires a Further Education Teacher of Infection Prevention & Control, Anatomy & Physiology, Palliative Care, Nursing Theory & Practice and Community Organisation Management to QQI Level 5 and Level 6. RGN (Registered General Nurse) qualification and experience in Further Education is desirable.
Candidates must be registered with the Teaching Council.
Apply with CV to mbcadmin@eircom.net
Closing Date: Wednesday 18th May 2016 at 5pm
---

USIT Travel are currently looking to hire soccer coaches to spend the summer working in the US. Their Coach Soccer USA programme gives soccer coaches or people who have an interest in soccer a chance to train kids from the ages of 3-18 this summer. The coaches get to travel around the US with their soccer camps and stay with host families so accommodation and meals are provided. Coaches also get 30 days at the end of their contract to spend in the US as they wish. For anyone interested in this programme please go the following link.
https://www.usit.ie/work-abroad/soccer-camp-usa
Coaches need to be assessed before they can be hired and the last assessment day of 2016 is taking place Wednesday 27th of April at UCD.
Darina Carr
Marketing Manager
USIT Travel
19-21 Aston Quay
Dublin 2
Email: darina.carr@usit.ie
Website: www.usit.ie
Blog: www.usit.ie/blog
---

Can you operate Sage Software?
Can you prepare VAT returns?
Can you operate a Payroll system?
Can you record and analyse cheques journal, purchase ledger and sales ledger?
Can you communicate on a daily basis with customers?
Have you the ability to plan, organise and co­ ordinate management meetings, appointments and stock takes?
If you have this knowledge and these abilities, we have a vacancy in our front of office department.
If you do not possess these skills but are willing to spend time acquiring them in an office environment, we are also interested in talking to you.
Please contact Joanne on 09064 92288 if you wish to pursue this path further now, or within the next 2 or 3 months.

We are currently looking for Health Care Assistants to work in our Mullingar Nursing Homes. Interested candidates should forward their CV to adminnb2@newbrooknursing.ie
---

Hodson Bay Boat Training and Watersports Centre
Hodson Bay, Co. Roscommon. Tel: 090 6494801
email: info@baysports.ie Webpage: www.baysports.ie
Staff Required for:
Ireland's Largest Outdoor Inflatable Waterpark & Activity Centre
Baysports is looking for a wide range of personalities with the appropriate skills to join and work with us this summer.
Applicants with a keen interest in working in The Great Outdoors are invited to apply.
Please email your CV to Catherine at info@baysports.ie listing your experience & qualifications.
---
Child minder required
We would love to find a reliable and kind child minder for our 5 month old girl in Moate. They need to be flexible as the days required will vary. Experience with young children is necessary.
Please contact me if you are interested. Thanks, Niamh 087 2439604
Graphic Design Intern Position
Description
The intern will gain practical experience in Poster, Signs, Vehicle advertising. The intern will receive formal/informal training in the following: Graphic design, Advertising board production and installation. On completion the intern will have attained skills in label, posters, time keeping, team working and interpersonal skills.
---
Skills Requirements
Ability to follow instructions and to meet customer deadlines. Reliable and takes pride in the quality of their work. Excellent time keeping is essential. Willingness to take the initiative and adopt a proactive approach. Have an eye for detail in the use of Photoshop etc. Imagination and good visual sense.

Contact
Signs of the Future
Collins Lane, Tullamore
Tel: 057 9352462
Email: signsofthefuture@gmail.com
web: signsofthefuture.ie
J1 Summer Job Opportunities at Summer Camps in America
Positions are currently available for camp workers in Round Meadow and Camp Whittle located in the San Bernadino mountains. (http://www.ymcala.org/camp/location/ymca-camp-round-meadow) (https://www.ymcala.org/camp/location/camp-whittle).
Many positions are available at these camps. Equestrian jobs include teaching campers how to ride horses, bringing children on trail and arena rides. Other jobs include Lifeguarding, Jewellery making, Dance and Movement, Woodwork, General Sports, and Archery.
This position is ideally suited for someone aged 19-30years old with a keen interest in working with children, no formal training/qualification is required as in house training is provided. Although the closing date is 30th March, applicants are interviewed on a first come, first served basis. For more information see the links below.
10 steps to summer of a lifetime
Jacqueline Weeks
Tel: +44 (0)845 680 9 681 / +44 (0)7515008972
Skype: Jacqueline-cole
Follow on Twitter: @Make_My_Summer
www.facebook.com/makemysummer