MBC
NEWS ARCHIVES
Awards Ceremony at the
National Career Skills Competition 2017
---
Everyone at MBC would like to congratulate Linda Haran who was one of the prize winners at the National Career Skills Competition 2017 for her project on Developing Employability Skills while on Work Placement. Linda has just completed her QQI Certificate in Business and Office Administration Level 5 in Moate Business College. She is pictured here at the Awards Ceremony in Dublin along with Frances Kelly, Director of Moate Business College and Amanda Greene, Linda's Work Placement Tutor.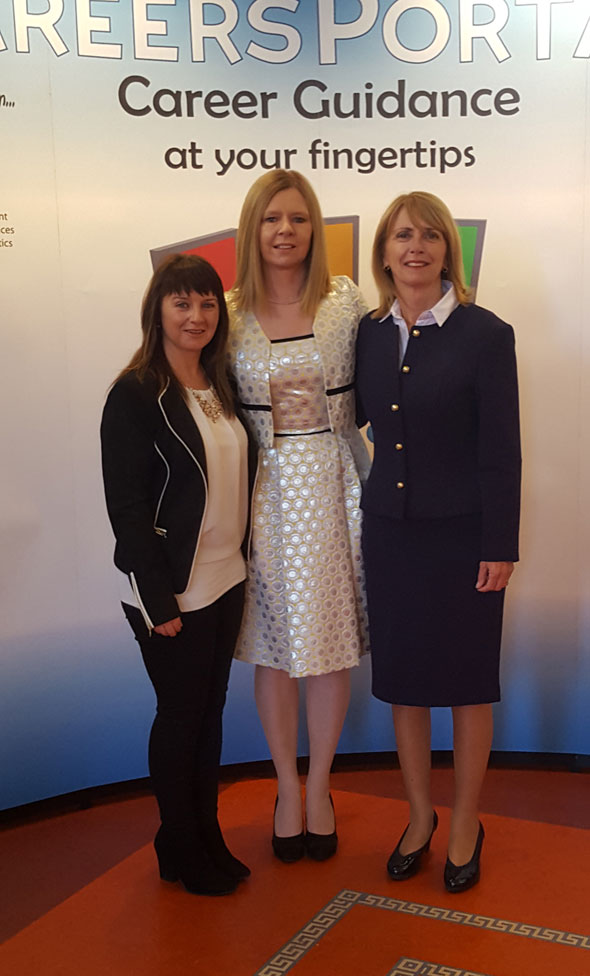 ---
Christmas Jumper Day
in aid of Crumlin Hospital
---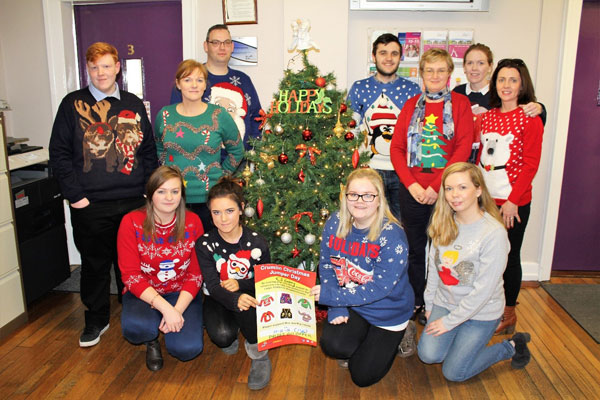 Moate Business College Media Studies group held a Christmas Jumper Day in aid of Crumlin Children's Hospital this Tuesday.
Much needed funds were raised by students for the hospital with everyone getting into the Festive Spirit.
MBC Soccer
Moate Business College V GMIT Galway B
---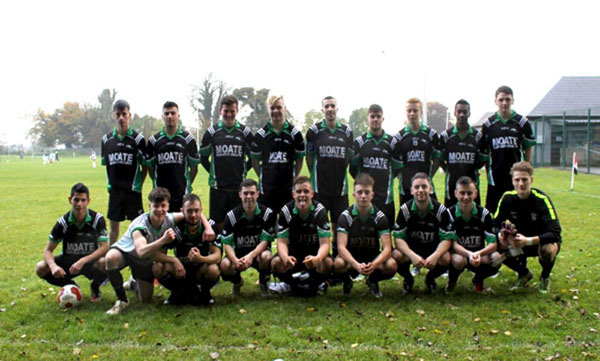 Moate Business College hosted GMIT Galway B in the second round of Division 3C of the CUFL league. To see the match report click here.
Freshers Day

2016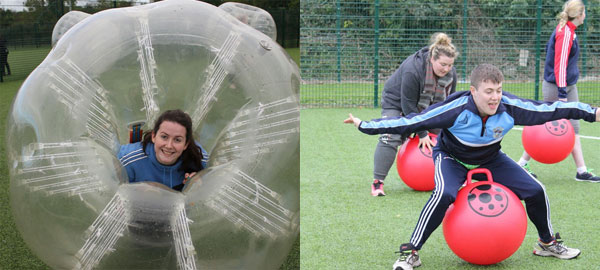 Moate Business College held its annual Fresher's Day on Thursday 13 October. All activities on the day took place on the college campus with students participating in a wide range of fun-packed activities. To see more photos click here or visit our facebook page.
Erasmus+ Programme
2016-2017
---
Application forms are now available for the Erasmus+ 2016-2017 Programme.

Forms can be collected at the Front Office in Moate Business College or alternatively can be downloaded here
Tourism Students

Irish Irish Heritage & Culture Day
---
As part of their course in Moate Business College, students from the Business and Tourism course held an Irish heritage and Culture day. This involved Tourism students organising an Irish music and dance event in the college with participants showing off their talents from across every course.
The Business and Tourism course at Moate Business College is run as a 1year full time course for the level 5 qualification and two years for a level 6 qualification designed to equip students with a detailed understanding of the National and International Tourism and Travel Business. Participants will qualify with certification in Tourism/Business.
Moate Business College

Art Graduate wins celebrity recognition
---
Article Reprinted from The Westmeath Independent newspaper.
The Kardashians, including ·momager' Kris, Kim, Khloe, as well as the likes of jLo, and designer Michael Costello, are just some of the celebrities paying attention to the work of a talented Moate artist, Ellen Mccann. Ellen, who goes by Nelle for the purposes of her art, set up Nelle Illustrations a year ago and since then the 26-year-old who resides in Galway, has won celebrity recognition from across the globe.
Creating digital art that depicts "empowered women", Nelle says she has always been creative, and knew that a career in art was for her. However, art through academia was something that Nelle discovered wasn't for her. "I've been a creative person for as long as I can remember. Drawing on the walls of my house when I was a child which can still be seen today if you chip away some of the paint, I entered and won a lot of art competitions in school," begins Nelle, who did an art and design course in Moate Business College.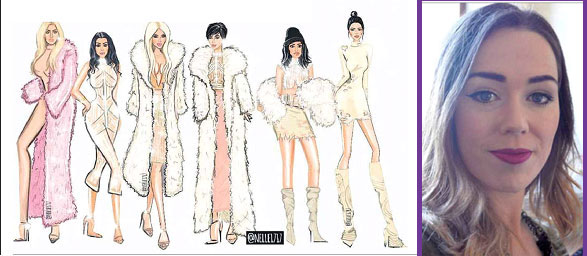 Ellen was also chosen to live and work in Barcelona as part of the Leonardo project (now called the Erasmus+ Project). "Fifteen people from the entire college got picked to participate and I happened to be lucky enough to be one of them. I was shocked when I was told I was picked. Going to Barcelona was one of the best experiences of my life to date," she continues. "It changed me as a person, it really opened my eyes. It was amazing to live as a local and be part of such a creative city like Barcelona for a few weeks. And I'll always be grateful to Moate Business College for giving me that experience."
Read more of Ellen's story here
Employment Opportunities

2016
---
Employers often contact the college looking for prospective employees for available posts. To view current job opportunities go to our Employment page.
MBC establishes more links with
Athlone Institute of Technology
---
Moate Business College has established a new link with Athlone Institute of Technology. Students who successfully complete our Level 6 Business Computing course will now have direct entry into Year 2 of the Level 6 and Level 7 Business Computing Course in AIT.
Graduates of the MBC Business Computing course can complete 1 year in AIT and receive a Higher Certificate in Computing for Business. Completing a further year at AIT will allow the student to graduate with a BSc Degree in Business Computing
Irish Autism Action-
Talks to Childcare Level 6
---
Guest Speaker Niall Murphy from Irish Autism Action recently presented a talk to the Level 6 Childcare students.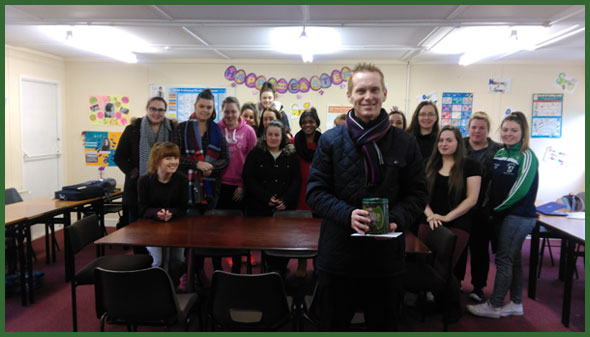 Marie Keating Foundation -
Funds raised by Social Care Students
---
Well done to all the Social Care Students who took part in the fundraising efforts for the Marie Keating Foundation during the recent Breast Awareness Week. €461 was raised for the foundation.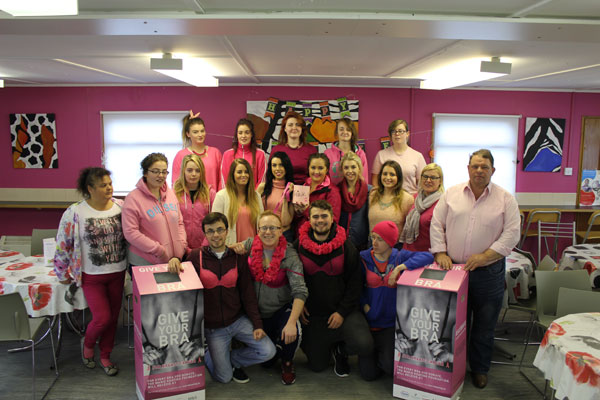 Erasmus+ 2016 -
MBC Students head off to Romania and Italy
---
16 Moate Business College students headed off on a 3 week work placement to Romania and Italy this weekend. They will be followed in 2 weeks by another 8 students who will take up their placements in Italy also. The staff and students of MBC wish them all the best and look forward to hearing about their experiences on their return.
Erasmus+ Students (Timisoara, Romania). L to R. Lorraine Muldowney, Colette Reynolds, Aileen Mimnagh, Kyle Murphy, Emma Hayes, Megan Nolan, Jack Dobson, Alex Grenham.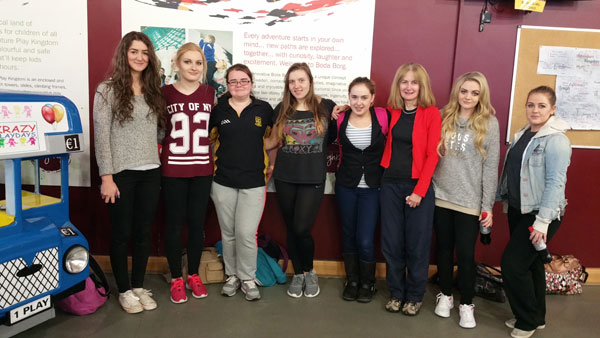 Erasmus+ Students (Pinerolo, Italy). L to R. Caoimhe Gaffney, Patryja Makowska, Chloe Gaffney, Amy Garvey, Siobhan McCormack, Bernadette Ryan, Rachael Lahiff, Clair Molloy.
Erasmus+ Students (Osasco, Italy). L to R. Laura Ryan, Stephanie Eustace, Megan Shiels, Tara Dooley, Kaylen Raleigh, Donna Reid, Jack Molloy, Katie Gavin.
MBC Soccer Team -
Bob Eustace Shield
---
Well done to MBC Soccer Team who beat Pearse College 4-0 in Bob Eustace Shield during the week. Scorers: Martin Fleming, Jamie Cox (2) & Kelin Quinn. Moate now face DIT C in the quarter finals.
College Open Day -
Thursday 10th March 2016
---
Moate Business College
Graduation 2015
---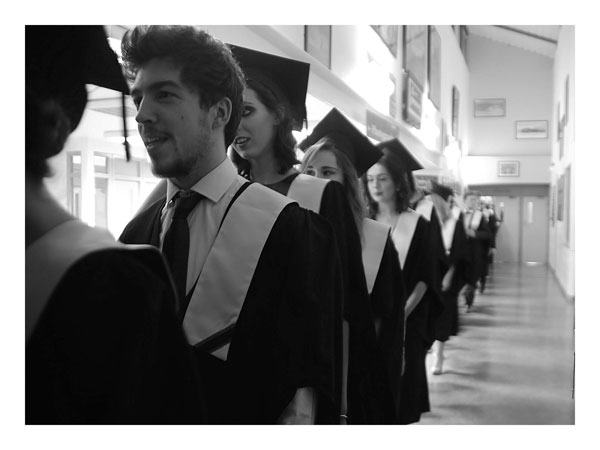 Warmest congratulations to all our students who graduated Friday, 20th November 2015. We hope you had a wonderful evening with your friends, family and classmates. Click here to see some photos of the event.
Tourism with Business Students visit
Ireland West International Airport
---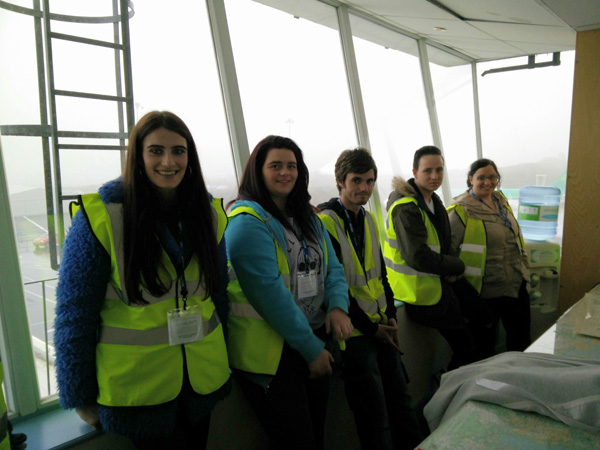 MBC Tourism with Business students recently partook in an educational visit to Ireland West International Airport in Knock. Click here to see some of the pictures from the day.
Buckinghamshire New University
Open Day Conference - Nov 2015
---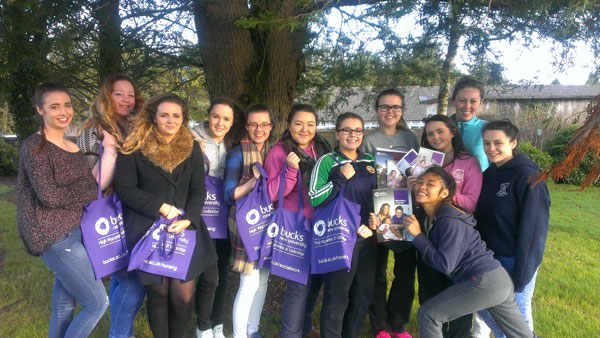 Nursing students from Moate Business College attended Buckinghamshire New University's Open evening in Dublin this week. Representatives from the University held an informative evening for prospective students hoping to study Nursing in England.
Many graduates from the Nursing Studies course in MBC venture to England to undertake degrees in Nursing and its many disciplines.
MBC Art trip to
Royal Hibernian Academy
---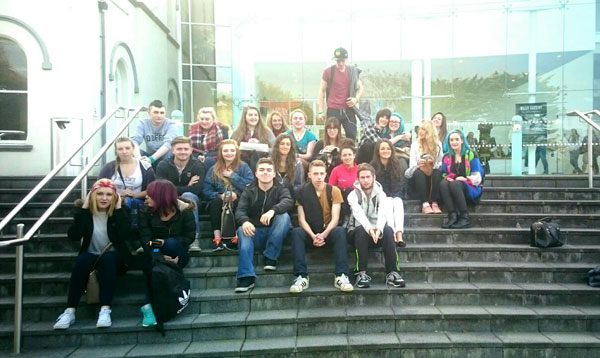 Moate Business College Art Department headed off on their first field trip of the year to visit The Royal Hibernian Academy Dublin, The National Gallery and Pauline Bewick's current exhibition in The Kidare Street gallery.
For many of the students it was their first experience of performance art which was on show from contemporary visual artist Amanda Coogan. Also on exhibit at the RHA gallery was stone works and drawings from artist Michael Quane. Pauline Bewick who is celebrating her 80th birthday this year is currently exhibiting her works in The Kildare Street gallery and students got to experience first-hand some of the most impressionable pieces of Irish Art spanning over Bewick's formidable career.
Freshers Day
Thursday 1st October 2015
---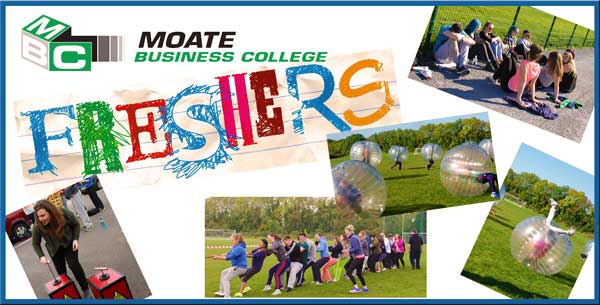 There was a great turnout for our annual Freshers Day which took place on Thursday 1st October. The day was wonderfully sunny and students and tutors alike were energetic and enthusiastic in their participation in events. Click here to see some of the pictures from the day.
Erasmus+ Students
Appear on Romanian TV
---
The 8 Moate Business College students currently on their Erasmus+ work placement in Romania got to appear on TV this week. They were interviewed by Romanian Television, discussing their impressions of Romania and Timisoara, the city they are currently residing in.
Erasmus+
Students
---
Welcome back to the Erasmus+ students who have just returned home from Romania.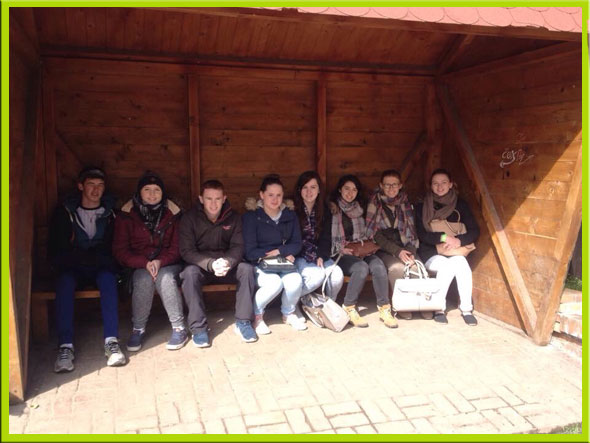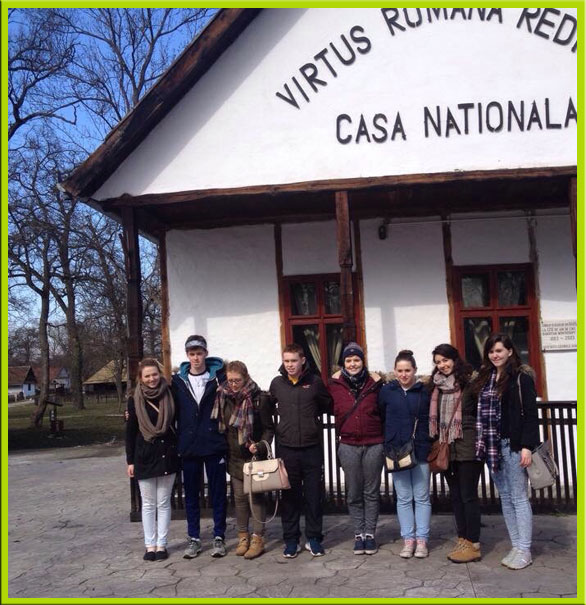 Employment
Opportunities
---
See the employments page for opportunities in Aer Lingus
MBC
Mad Hatter's Tea Party
---
Students from the Community Care Level 6 course at Moate Business College held a 'Mad Hatters Tea Party' themed coffee morning in aid of the Irish Wheelchair Association and Esker House on Thursday last.
Service users from the Association joined the students from the college in morning's events and sampled many of the wonderful treats and cakes made by group.
A grand total of €1,000 was raised for both Esker House and The Irish Wheelchair Association through monies raised on the morning and a sponsored 5km walk.
A special thank you to Margaret Naughton for arranging the room into a wonderful "Rabbit Hole" and for providing all the costumes worn by the students.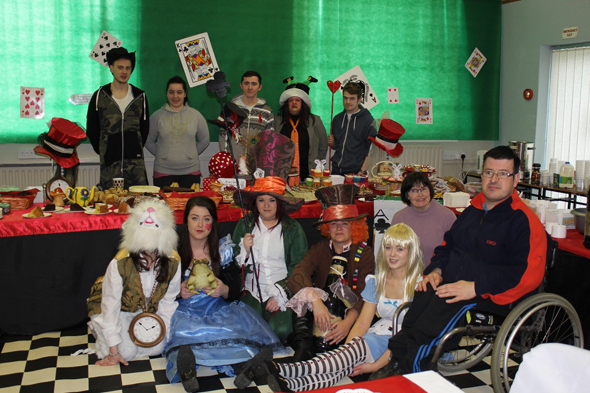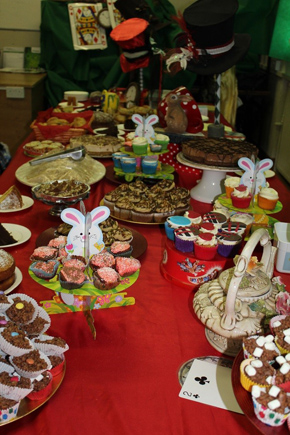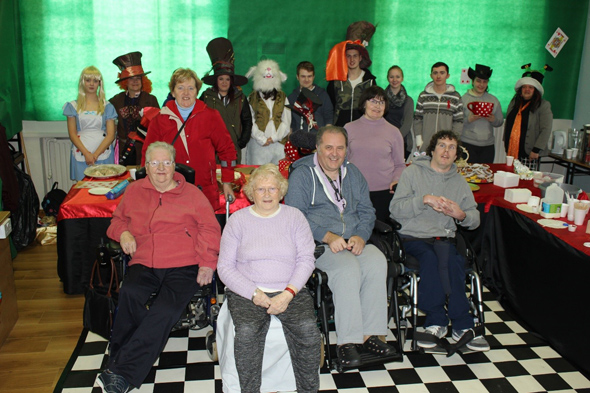 Erasmus+
Students in Italy
---
Our Erasmus+ Students currently on the second week of their work placement in Italy are making sure they take in all the sights while they are abroad.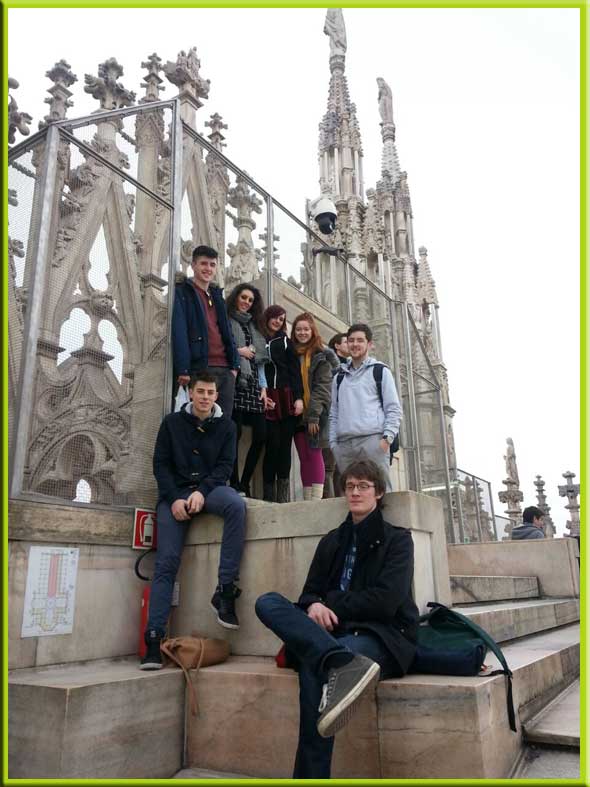 Marie Keating Foundation
visits MBC
---
The Marie Keating Mobile Information Unit came to visit Moate Business College last Wednesday to give students at the college much appreciated health information talks.
During their health information workshops the nursing staff from the foundation used 'smokelyzer' breath testing kits on students as well as visual aids such as 'tar in a jar' in a bid to encourage students to give up smoking.
As part of the foundations 'Healthy Living Campaign' advice was given on Diet and Healthy eating.
Students and staff from the nursing studies area in the college made a donation to the foundation as a 'Thank You' for their time, advice and coaching.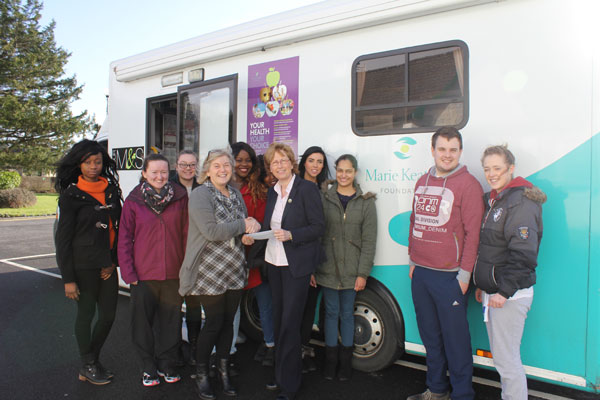 L-R Cynthia Ira, Frances Cunningham, Lucia Rossi, Bernie Murtagh(Nursing Co-Ordinator MBC), Ursula Clancy (Marie Keating Foundation), Aoja Wuraola, Niamh McNamee, Manindenvir, Leo Walshe, Katlyn Gardiner
MBC Tourism Students
Field Trip to Glasnevin Cemetary
---
Tourism students recently attended a tour guiding workshop delivered by an experienced guide at Glasnevin Cemetery. They learned how to deliver a tour and essential customer service techniques. Afterwards students participated in Glasnevin Cemetery's 'Shared History Tour' which gave an overview of many of the key events and personalities of significance to Irish history. Students visited the graves of Daniel O'Connell, Charles Stewart Parnell, Eamon DeValera, Michael Collins and James Larkin to learn of the role they played in Irish history. See more..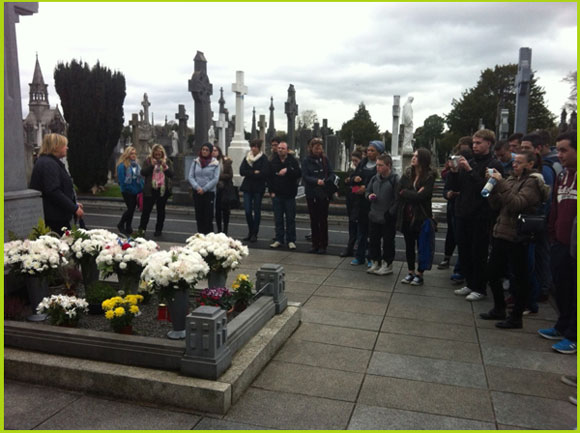 An Oige
visits MBC
---
Representatives from An Óige recently attended Moate Business College to inform students about the advantages of hostelling in Ireland. An Óige is a non-profit membership organisation founded in 1931 to encourage youths to appreciate the Irish countryside through hostelling. The organisation consists of 21 youth hostels around Ireland, with 9 of its own An Óige hostels and 12 franchise hostels. It is part of a worldwide network of national organisations belonging to the International Youth Hostel Federation (IYHF). This entire network, known as Hostelling International (www.hihostels.com), offers more than 4,000 hostels in over 90 countries.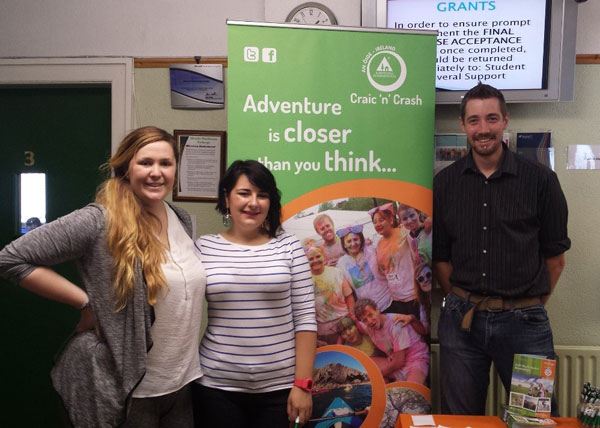 Exhibition
of Art Pieces by MBC Students
---
Moate Business College Art Students are staging an Exhibition of Art Pieces which will be displayed in the Atrium of Westmeath County Council Buildings, Mullingar. The exhibition will run from Tuesday 20th January to 27th January.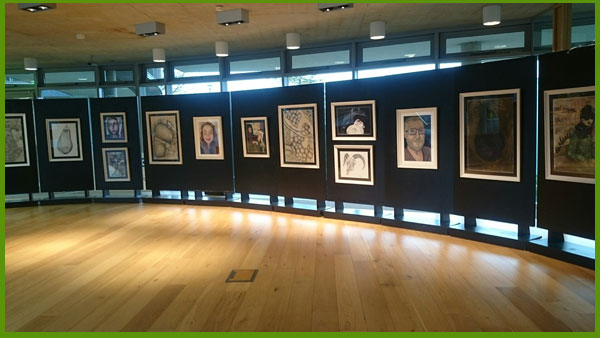 Evening Classes
Commencing 19 January 2015
---
It's that time of the year again. With dark evenings now upon us, many people's thoughts turn to self-improvement and evening classes. The evening class programme at Moate Business College will commence on Monday 19th January 2015. Moate Business College has, for over 25 years, been at the service of the community offering a great array of night classes and expert tuition and this year is no
exception. Business and Information Technology classes are always in popular demand. However, for those dedicated exclusively to intellectual enlightenment, there are also courses in art, photography, upcycling of old pieces of furniture.
Two new courses are being introduced this year. Rita Daly of Rita Daly Designs, Tullamore offering introduction classes to millinery. Rita's work is renowned throughout the midlands. It is not a traditional form of millinery in that she masters the art of free embroidery. This involves combining and manipulating different fabrics and colours to create totally unique and original pieces. Flower Art Creation Classes are also being offered, which fuse contemporary flower arrangements with sculptural form. This is a unique experience to experiment with dried flowers, driftwood and ornamental pieces and displays.
| | |
| --- | --- |
| | |
| Flower Art Creations | Basic Skills in Millinary |
To secure your place on your chosen course, join us for registration evening on Tuesday January 13th between 7pm and 8pm. All classes will commence the following week on Monday 19th January 2015. Go to the Evening Class Timetable
MBC
Student Alan Mullen embarks on his 'Operation Transformation' Weight Loss Journey
---

Staff and students at Moate Business College would like to offer Alan our best wishes and support in his weight loss goal as a 'Leader' in this years 'Operation Transformation' on RTE. See more details.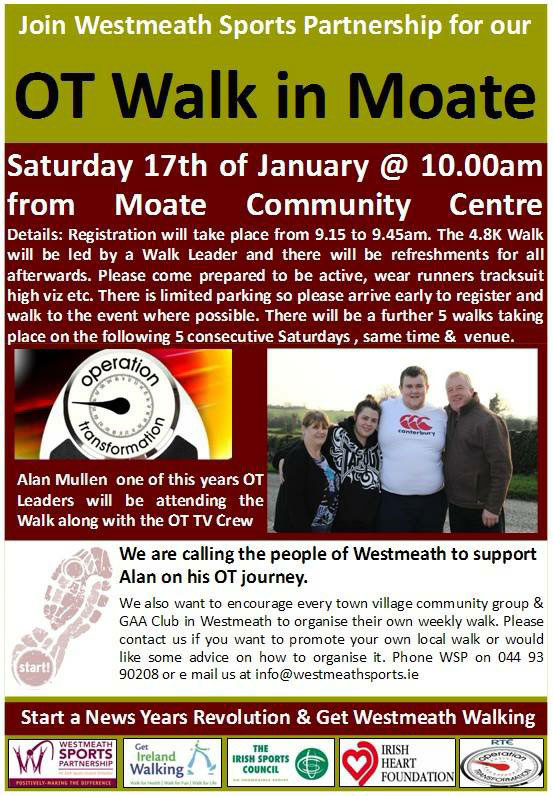 ---
MBC
Student Alan Mullen embarks on his 'Operation Transformation' Weight Loss Journey
---

Staff and students at Moate Business College would like to offer Alan our best wishes and support in his weight loss goal as a 'Leader' in this years 'Operation Transformation' on RTE.
Alan Mullen - one of the Operation Transformation 2015 Leaders
As part of the huge support for Alan at the college some members of staff and the Student Council have registered as a group to follow Alan as a leader on the programme in a bid to promote healthy eating and living within the college.
A large group from Moate Business College will join Alan in completing the Operation Transformation 5km Fun Run in the Phoenix Park in Dublin on Sat 21st February.
Match Report- Moate Business College
V Cavan Institute of Further Education
---
Match Day 2 of Division 3A of the CUFL league saw Moate Business College face Cavan Institute of Further Education on a wet and windy day in Athlone IT. Due to some great play, Moate secured their second victory in the group and now play AIT D next Wednesday 22nd October. Go to the full Match Report.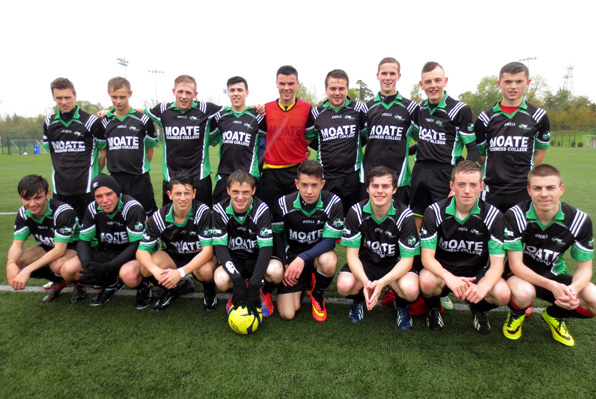 Past students of the Art & Design Portfolio course
make their mark on the Art World
---
As one of the leading facilitators of FETAC courses in Art in Ireland Moate Business College has produced countless graduates who have gone on to further their studies in third level colleges in Ireland and Europe.
Eoin Francis McCormack - long listed for the Saatchi 'New Sensations' Award
Some of these artists have made a very notable mark in the Art and Design profession and Moate Business College is proud to say that they started their journey on the portfolio courses at the college. Three of these past students are Eoin McCormack, who was long-listed for The Saatchi 'New Sensations' Award, Amie Egan who was the overall winner of the prestigious Persil Irish Fashion Awards this year and Vincent Devine whose portraits have appeared on "America's Next Top Model". Read More..
Match Report- Moate Business College
V NUI Maynooth D
---
Congratulations to MBC Soccer Team who won the opening match of the new season when they met the NUI Maynooth D Team on 7th October 2014. The final score was 3-0. Go to the full Match Report and the gallery for photos of the event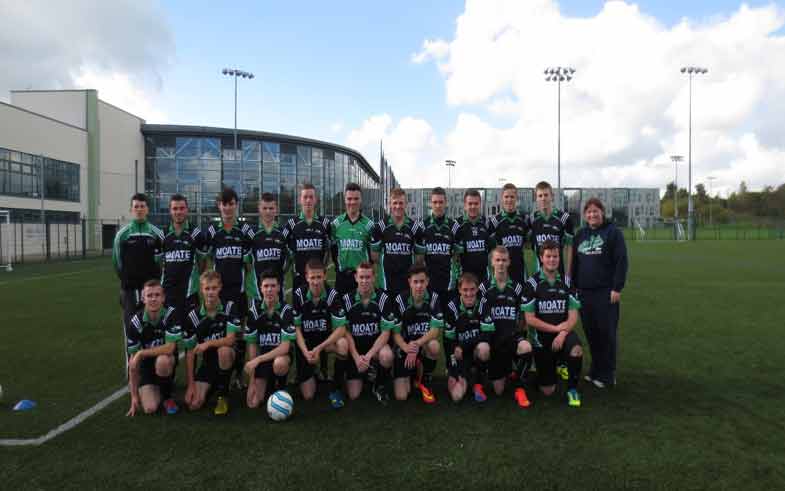 Past MBC Art Student
wins 15th Persil Irish Fashion Awards 2014
---
Congratulations to NCAD Fashion Student and past student from Moate Business College Art Department 23 years old Amie Egan who has won the final of the 15th Persil Irish Fashion Awards 2014, winning plaudits from the judges for the finishing and attention to detail of her outfit.
Amie received €10,000 from Persil and her winning 'mother and child' outfits will be manufactured and sold in selected Dunnes Stores nationwide.
MBC Students
Raise Money for Breast Cancer Awareness
---
As October is Breast Cancer Awareness month the Nursing Studies class at Moate Business College decided to raise some much needed funds for The Irish Cancer Society last week.
Students and tutors all wore pink last Friday in the college and donated money to The Irish Cancer Society. The Society supports cancer patients and their families at every stage of their cancer journey. The money raised will help towards providing essential breast cancer services around the country.
Students from the Nursing Studies Class
Art Students
Field Trip to Boora Bog
---
This week students studying on the Art & Design courses at Moate Business College visited Boora Bog and Parklands. Students used the unique settings of this special landscape as the perfect subject for their drawing and painting projects.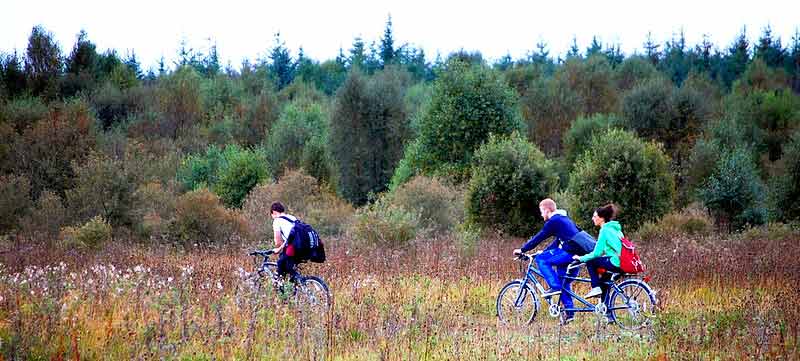 Tourism Students
Field Trip to Kilkenny Castle
---
The MBC Tourism class recently visited the historic town of Kilkenny as part of their tourism studies. Kilkenny received the Failte Ireland Tourism Town award for 2013 and is shortlisted for the 2014 award. Kilkenny provides the visitor with centuries of history and culture. Students were particularly impressed by their tour of Kilkenny Castle and the information provided by the staff in the Discover Ireland Centre.
MBC Tourism students complete at least 10 site visits to tourist attractions throughout Ireland as part of their studies in Irish Cultural and Heritage Resources.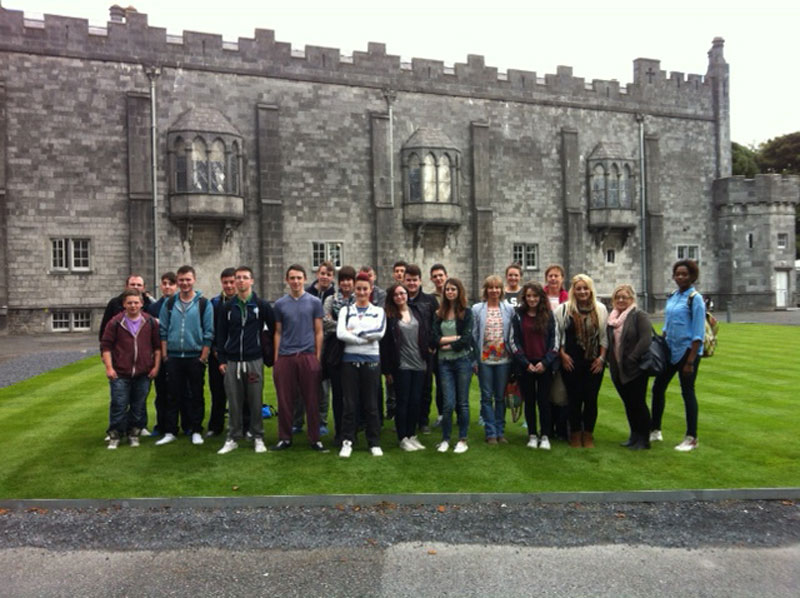 ---
Media Studies and Tourism
Trip to the Ploughing Championships
---
On Wednesday 24th September last 53 students from the Media Studies, Tourism and Administration courses in Moate Business College took a trip to the National Ploughing Championships.
Students from the Media Studies group took advantage of the fabulous 'extended Summer' weather and had a very productive day capturing the mood and events of the festivities at the championships with their cameras as part of their photography studies while the Tourism and Admin groups used the experience as a research project about large scale event management.
This was one of the first fieldtrips students from these courses embarked on this academic year as part of their course project work at the college.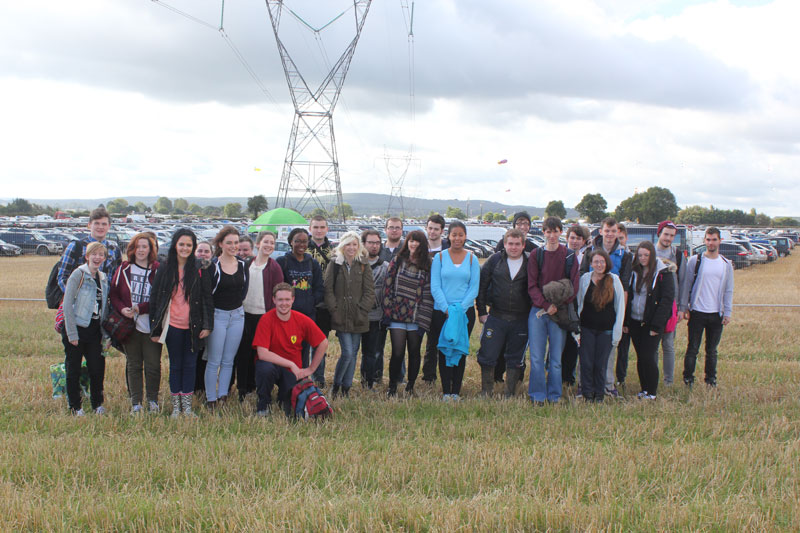 ---
Congratulations to
our 2014 Scholarship Winner
---

In association with Midlands Radio 3, MBC ran a competition in which we offered a scholarship to partake in one of our programmes for the academic year 2014 – 2015.
The winner of this competition is Debbie Ennis who has applied and has been accepted on our Nursing Studies course. Debbie can be seen below along with the Director of Moate Business College, Frances Kelly.
Congratulations Debbie - We hope you enjoy your time at MBC
---
---
Old Style Olympics Day

12 March 2014
MBC goes Old School Olympic Style on the 12 March 2014 with a host of events popular in times past to be reinacted on the day. Reckon you could beat the tutors in the tug of war event? Just how steady would you be in the slow bicycle race? Do you want to know what the Boot in the Barrell is all about? Then make sure you're there to participate on the day. Irish food, traditional music, board and card games are also some of the happenings taking place.

All money raised during the day will be presented to the Moate and Midlands Dog Rescue to aid the building of their new shelter.

To see more information about the Moate and Midlands Dog Rescue Projects go to their facebook page here
Bob Eustace Cup

Final
---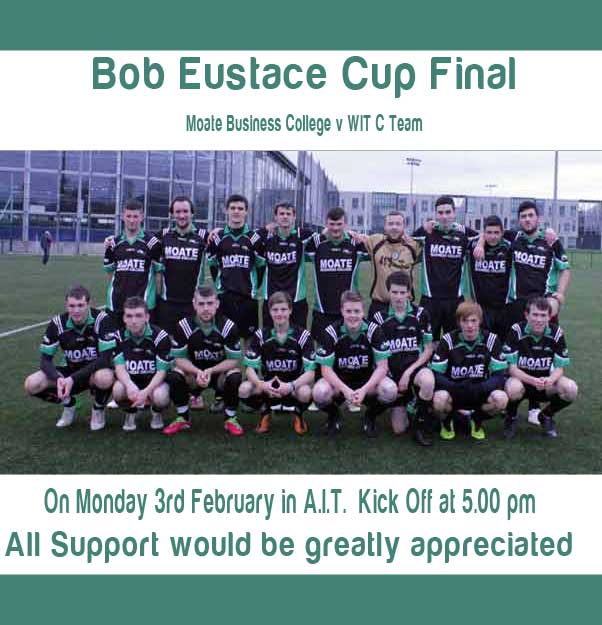 MBC Technology Students visit DAA, Dublin Airport

February 2014
---
Moate Business College students were recently hosted by the Dublin Airport Authority. Students were briefed on the operations of Dublin Airport and the work of the DAA. Upon receiving their security passes students were guided through Terminals 1 & 2 and areas of the airport normally accessible only to employees of the airport.
Dublin Airport handled an extra 1 million passengers in 2013 and it is expected that passenger numbers are set to continue to grow. New routes and new airlines bring new employment opportunities for those interested in a career in the air as a member of airline cabin crew, or for those interested in passenger handling in Dublin Airport. MBC Tourism students can study for a FETAC Level 6 qualification in Airport Passenger Services, an internationally recognised qualification.
Many thanks to FIT (FastTrack to IT who arranged the visit)
Go to the gallery section to see pictures from the day.
MBC Technology Students visit Microsoft HQ

December 2013
---
MBC in association with Fasttrack to IT (FIT) arranged for members of the Computer Studies, Business Computing, Business and Tourism courses to attend a special day-long visit to the Microsoft Headquarters in Dublin on the 7th December. The trip proved to be extremely educational to the students that took part, with presentations on industry trends, discussions on career opportunities - incorporating the Microsoft "Youth to Work" Initiative and guided tours of the Microsoft HQ. Go to the gallery section to see pictures from the day.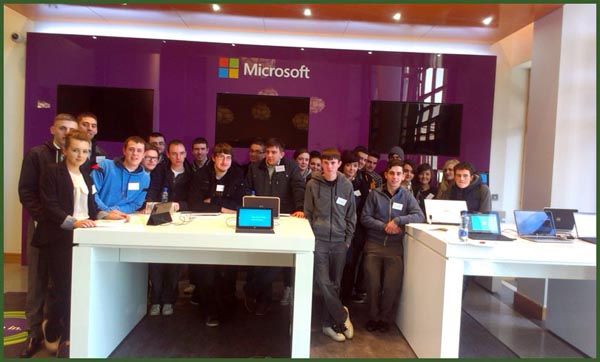 MBC and FIT working together

to update learner skills
---
Fasttrack to IT (FIT) is an industry-led initiative which works in close collaboration with government departments and national education and training agencies, local development organisations and a host of community based organisations.
FIT's mission is to promote an inclusive Smart Economy by creating a fast track to marketable technical skills for those at risk of unemployment long term.
FIT is currently providing a series of workshops in the MBC Business School which will give learners an invaluable range of information and advice on current industry requirements, along with access to 'in-demand' skills, work experience and interview and CV development support

Soccer Match Report

MBC v Dublin Institute of Technology C
---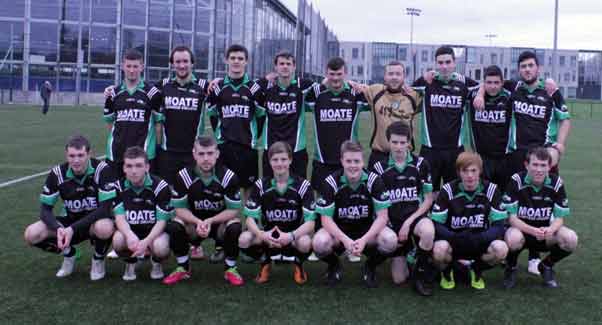 Moate Business College - 3 Dublin Institute of Technology C – 2 (AET)
Moate Business College played DIT C in the CUFL Bob Eustace Cup Round 1 Competition on Wednesday the 27th of November 2013 in a very entertaining game. The game was a tough encounter with Moate having most of the possession throughout the game. Darren Donnelly scored two goals in normal time and his second brought the game back to a draw. However the game finished two all after the Moate goalie David McKervey saved a penalty kick resulting in the game going to extra time. Moate continued to pile on the pressure in extra time and were rewarded when Michael Daly lobbed the goalie with a great shot and Moate held their lead for the rest of the game to progress into the next round of the competition.
Scorers: Darren Donnelly (2), Michael Daly
Team: David McKervey, Shane McCormack, Ciaran Shanley, Richard Harris, Kevin Boland, Luke Tynan, Ricky Scally, Jamie Cornally, Niall McGowan, Darren Donnelly & Michael Daly
Subs Used: Kevin Flaherty for Jamie Cornally
Substitutes: Kevin Flaherty, Eddie Murphy, Ryan Wright, Peter Dixon, Brian Moran & Michael O'Riordan
For more pictures of the match click here
Moate Business College
Graduation 2013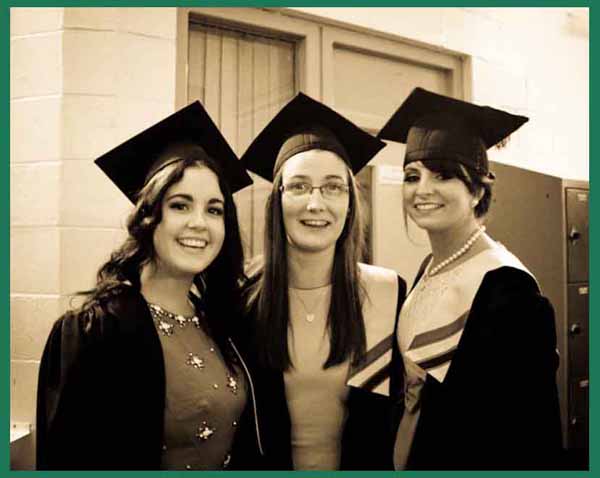 The 2013 MBC Graduation Ceremony was held in Moate Community School on Friday November 15th 2013 at 8 pm. Over 130 students graduated on the night and the whole affair was an overwhelming success. Pictures of event can be seen in the Gallery section.
---
MBC Moodle

up and running
---
The updated version of MBC's Moodle site is now up and running. The site can be accessed from the moodle link on MBC's homepage. Each learner will need a username and password to log onto the site. All students can get these from their course tutors.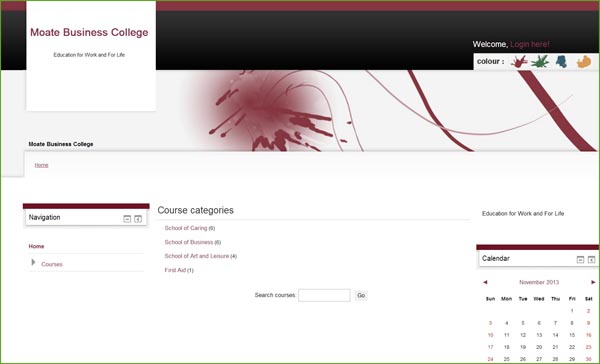 ---
Term 1

Newsletter
---
Since September this year, MBC has played host to a variety of events including Freshers day, Art and Design Field Trips and Visits, Team Building and Personal Development days in the Cavan Centre, Trips to the Ploughing Championships and Industry Visits. See our newsletter in the Students section and pictures in the Gallery section for more details.
Employment Opportunities

2013
---
Employers often contact the college looking for prospective employees for available posts. To view current job opportunities go to our Employment Page
Soccer Match Report

MBC v Cavan Institute of FE
---
Moate Business College 4
Cavan Institute of Further Education 2

Moate Business College played Cavan Institute of Further Education in the CUFL (College University Football League) Division 3A Group Game on Thursday the 17th of October 2013.
Cavan settled into the game quicker and had the Moate defence on the back foot for much of the first half. Cavan broke down the Moate defence on two occasions in the first half and Moate went in trailing at half time on a score of 2-1 after a well worked free kick from the boot of Darren Donnelly brought Moate back into the game. Moate equaliser came from a corner kick and Shane McCormack scored. Cavan were reduced to 10 and Moate piled on the pressure and were unlucky on a number of occasions. Darren Donnelly scored his second to give Moate the lead and the game was secured when Luke Tynan ran through the defence and scored Moates fourth.
Scorers: Darren Donnelly (2), Shane McCormack & Luke Tynan
Team: David McKervey, Shane McCormack, Ciaran Shanley, Richard Harris, Niall McGowan, Luke Tynan, Ricky Scally, Kevin Boland, Niall Moran, Darren Donnelly & Jamie Cornally
Subs Used: Eddie Murphy for Cornally, Ryan Wright for Boland and Peter Dixon for Tynan
Substitutes: Colin Ledwith, Eddie Murphy, Ryan Wright , Kyle Dever, Peter Dixon & Brian Moran.
For more pictures of the match click here
Leonardo

2013
---
This year was the 7th year of Moate Business College's involvement with the Leonardo da Vinci Mobility Project, which is operated through Léargas as part of the European Commission's Lifelong Learning Programme 2007-2013. The purpose of this project is to offer students attending FETAC Level 5 and Level 6 courses the chance to gain training and work experience in another European country. The work placement lasts for 3 weeks with all expenses being paid for by The European Commission. Students stay with host families when they are abroad and, as well as completing their work placement, they also get the chance to visit local sights and tourist attractions and take part in excursions around the host country.
The project actually commences in October of each year when students apply to be considered for a place. All students attending Moate Business College are eligible to apply for a place on the project and once they have been chosen they then take part in a series of cultural and language classes which provide them with the skills required for their work placement abroad. In February of this year MBC sent a total of 16 students to Italy, Spain and Portugal for 3 weeks each. 6 students completed their work experience in Lisbon, Portugal while 5 students went to Barcelona in Spain, and the final 5 students went to Pinerolo in Northern Italy.
All the students worked in placements that were based on their vocational area of interest and the course that they were studying in MBC. Work placements were varied and included working in hospitals, playschools,schools, fashion design companies, sports centres and hotels.
The students found the whole experience very rewarding and would encourage all future students to apply for a chance to take part in this project. "Lisbon was a lovely place to stay. Our host families were kind and made us feel at home all of the time. The work was very rewarding and we all learned a great deal of new skills." (Student Quote-Portugal Project)
Examinations

Days 2013
---
End of year examinations will be held on the following days
Wednesday 1st May
Thursday 2nd May
Tuesday 7th May


Details of times and room allocations can be found on the notice board screens in the college.
New Bus Routes

Ballymahon to MBC
---
Morans Luxury Travel, Ardnagrath, Athlone have commenced a new bus route to Moate Business College servicing Ballymahon, Tang, Tubberclair, Drumraney and surrounding areas. For details of times and costs contact Damien on 087 8232001 or John on 086 2674625
MBC Community Care Students -

Raising money for local causes
---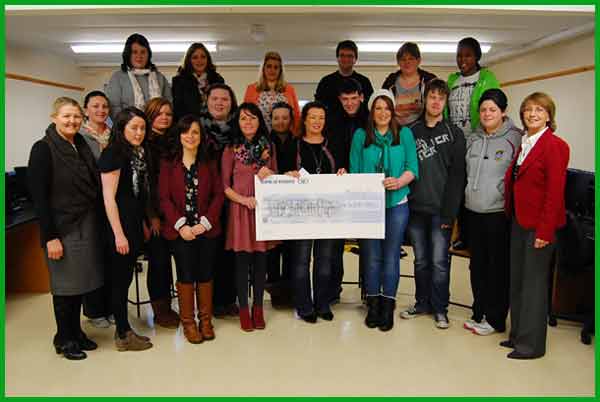 ---
Well done to MBC Community Care students who raised €458 through a number of fundraising initiatives. A cheque was presented to the Monsignor McCarthy Family Resource Centre in Battery Heights on Tuesday 29th January.
Shown Above: Back Row: Amy Carroll, Verona Cadwell, Shauna Kelly, Daniel Hogan, Karen McGuinness, Pricilla Mhlauli
Front Row: Bernie Henry, Claire Minnock, Niamh Malone, Laura Maher, Sinead O'Roarke (Community Development Worker), Margaret Egan, Olive Connaughton, Elizabeth Walsh, Sheena Lawless (Family Resource Centre), Kevin Dowling, Sarah Sheridan, Peter Byrne, Lisa Donoghue, Frances Kelly
MBC Art Students -

Sculpture Workshop
---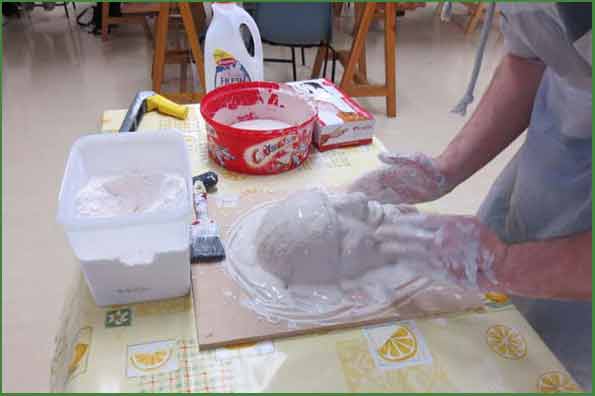 ---
In January, MBC past student Johnny Murphy, who has since qualified as a model maker, ran a sculpture workshop for the Art and Design classes. Go to the gallery page to see some of the work in progress from the day.
MBC Students Raise Money

for Athlone Soup Kitchen
---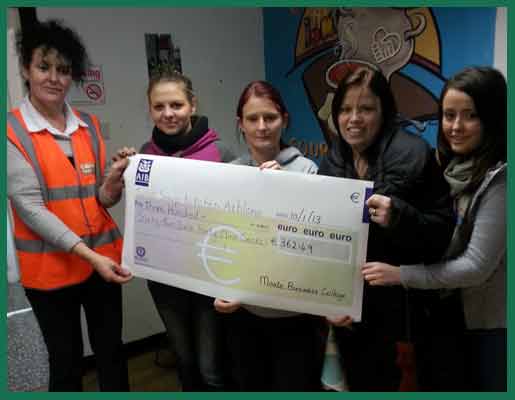 ---
In December, Community Development Level 5 students fundraised and used money to throw a Christmas party residents of the nursing home in Moate and donated the remainder of over €360 to Twist Soup Kitchen in Athlone. Students pictured are Lauren Burns, Louise Cosgrave, Elaine Norris and Niamh Malone. Well done to everyone involved!
MBC Soccer

Team - Match Report
---
Moate Business College through to CUFL Division 3 Final
Moate Business College 2
Bray Institute of Further Education B 2
(5-4 on penalty's to Moate AET)
---

Moate Business College played Bray Institute of Further Education in the CUFL (College University Football League) Division 3 Semi Final Game on Thursday 31st 2013 on the Astroturf pitch in Athlone Institute of Technology.
Bray seemed to settle into the game from the start showing some good passing movement and sneaked an early goal in the first half into the bottom corner passed Justin Purtill the Moate goalkeeper. The second half had good periods of play from both teams. Moate Business College increased the pressure and a corner kick resulted in Aaron Dully heading in Moates first goal to leave the game one all. Within minutes Bray were down the pitch again and had their second goal to give them the lead. Moate continued to attack seeking an equaliser and this was rewarded when Martin Rock scored Moates second to bring the game to extra time. Extra time was a well contested affair with periods of hail stones making conditions difficult for both sides but the teams remained level. The penalty shootout was a nerve racking encounter which went down to the last penalty. Moate had scored all five penalties and a heroic save by the Moate goalie Justin Purtill secured the victory for Moate. Moate will now contest the CUFL Division 3 final. The opposition and fixture has to be confirmed. For photos of the match go to the Gallery Page

Scorers: Aaron Dully & Martin Rock
Team: Justin Purtill, Aaron Moran, Shane Monaghan (captain), John Rock, Chris Bracken, Martin Rock, Dwayne Farrell, Hafeez Sholola, Mark Keyes, Lekan Adams and Aaron Dully.
Subs Used: Jason O'Neill for Adams, Wagner De Almeida Celestino for Hafeez Sholola and Callum Tobin for Aaron Dully
Substitutes: Jason O'Neill, Callum Tobin, Wagner de Almeida Celestino, Kou Saghian, Dean Mills
MBC Soccer Team in jubilant mood after winning their semi-final match.
---
MBC Open Day

2013
---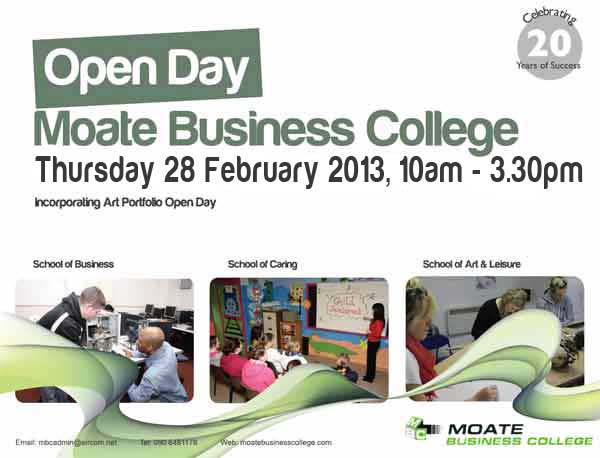 ---
The annual college Open Day will take place on Thursday 28th February 2013. Coming to visit us at our Open Day is the best way to find out what Moate Business College is really like. As well as looking round the College, you will also get to find out more about the courses and our entry requirements. You will also be able to meet our tutors and some of our current students and discover their experiences of studying here. This open day also incorporates the Arts Department Portfolio Day. People interested in attending the Art Portfolio course in the next academic year can tour the arts buildings and view current students work.
Graduation Ceremony

2012
---
The Graduation Ceremony for the Graduating class of 2011/2012 was held on Friday 16 November. The College wishes to thank all students, families and staff involved for making the night such a wonderful success. Pictures from the event can be seen on the Gallery Page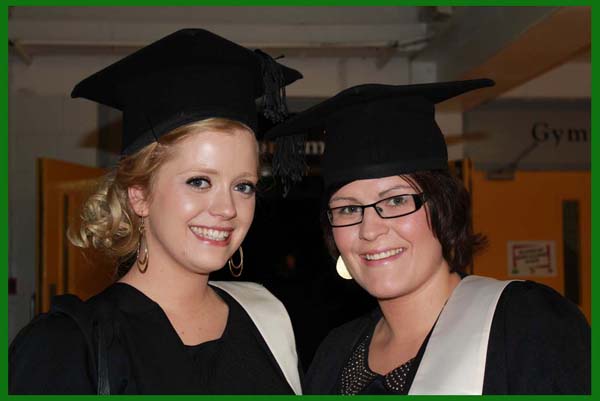 Match Report

MBC Soccer Team
---
Moate Business College played National College of Ireland B in the CUFL (College University Football League) Division 3 Quarter Final Game on Wednesday 21st of November 2012 on the Astroturf pitch in Athlone Institute of Technology.
For full match report click here
Bus Timetables

to and from MBC
---
For information about bus routes and timetables for buses travelling to and from Moate Business College, select the following link
Moate Business College

Open Day:
---

The Moate Business College Open Day and Art Portfolio day was held on Wednesday 21 March. Our gallery page has some of the pictures from the day.
Moate Business College

celebrating 20 years of Success!
MBC celebrated 20 years of success and the opening of our new Art Studios on Wednesday 8 February 2012. To mark this occasion, Uachtarán na héireann Michael D. Higgins attended a special ceremony in the college. The event was a huge success and we would like to extend our congratulations to all involved.